Hands down, Whitney Houston's live performance of the chart-topping "Didn't We Almost Have It All," is one of my all-time favorite performances by her, one in which her voice became improvisational with the series of "Didn't we's" at the end. The brown bomber jacket, jeans and boots reflecting her impeccable style, this became the song's official video. It seemed to reach new heights as she broke it down, while feeling the lyrics in the depths of her heart and soul. And I viewed her song "One Moment in Time" (1988) as a bookend to earlier songs that had empowered the generation of girls that came of age with me during the 1980s, reminding us that we could live our greatest dreams and that there were absolutely no limits to what we could achieve.
After coming of age with her songs in the 1980s (see Part 1), I found it wonderful during the 1990s to witness Houston reach still more extraordinary heights with her hit song "I Will Always Love You" (1992), a remake of the 1974 song by country singer Dolly Parton, as part of the soundtrack for the film The Bodyguard. Witnessing her continued success as she appeared in a range of popular films throughout the 1990s inspired me, from Waiting to Exhale (1995) to Cinderella (1997). A story that stands out from back then, one that points to the depth of Houston's voice, relates to the The Preacher's Wife (1996). In her 2012 article, "Bet You Didn't Know: Secrets Behind the Making of 'The Preacher's Wife'" in Madame Noire, Veronica Wells recounts the dynamic scene filmed in a church in which Houston is performing a gospel song with the Georgia Mass Choir. Penny Marshall, the film's director, attempts to stop the singing:
"There were moments when you were just walking around and everybody was joyous and praising and crying…. It was a spiritual event," she said. "It revived my soul, my faith in God." The defining moment, she recalls, occurred at Trinity United Methodist Church in Newark. Late one night, when Marshall was shooting the final take with Houston and the Georgia Mass Choir, "the Holy Ghost just came down and filled up the room," Houston says. "Penny was yelling, `Cut!', and then her mike went out and she kept saying, 'Cut, cut!' and nobody could hear her." "Baby," Houston says, her almond-shaped eyes widening, "we had church in that church that night! It was a fire in there and it was mighty." "I just kept the cameras rolling like we were filming a documentary," says Marshall, who left the full scene in the movie. "It was dizzying."
I'm not entirely comfortable with colloquial references to Houston as "the Voice," which on some levels seem to imagine her as being disembodied, and that this one dimension of who she was stands in for the whole. Yet, it speaks to how exceptional and extraordinary she was in terms of her vocal range and her singing abilities. It suggests how much she was in a league of her own. To this day, her voice remains unmatched. Many of her fans noticed that it lost some of its power and range over time, perhaps because of some of the struggles that she faced. Her final singing performance, an acapella rendition of "Yes, Jesus Loves Me," in the days before she passed away on 11 February 2012, is further testimony of how much she sang from her heart and how deep down in her soul she felt the songs that she performed.  
Dreams Achieved, Dreams Deferred
Having grown up at a time when becoming a model, singer and actress were among the greatest aspirations that girls and women aspired to and were encouraged to reach, I'm amazed that Whitney Houston lived ALL of those dreams and many more, and reached their highest peaks time after time, in the process making history. Even if Houston, at the height of her popularity, inspired and empowered many young girls, time revealed that life wasn't as perfect or ideal for her as it had seemed. She faced many of her own unique challenges and struggles as she came of age and made the transition into young adulthood, married, and became a mother. Her struggles became a sobering reminder of how the best dreams sometimes end up being deferred, to borrow the lingo from Langston Hughes's famous 1951 poem "Harlem," or even shattered and destroyed.
Her story is a reminder of the importance of knowing our worth and cherishing our unique and special gifts. There can be limitations and struggles that come with "success." Even the greatest superstars may face challenges with mental health; their highest highs of success can too often obscure the lowest lows. Even if iconic, they, too, are still very human. Losing Houston, along with celebrities such as Cheslie Kryst, Miss USA 2019, and Stephen Boss, the dancer and choreographer on The Ellen DeGeneres Show, who was from my hometown, is a reminder of what is at stake.
In her groundbreaking singing career, through the excellence that she consistently achieved, profoundly impacting audiences through her talents both in singing and acting, Houston actualized some of the dreams to which Dr. King spoke in his famous speech. I will always have the deepest respect for her. I remain deeply thankful for the impact of her artistry on my life and could not have asked for a better role model in popular culture than she provided when I was growing up. Whatever challenges she had, or choices and mistakes she eventually made, nothing will ever mitigate her greatness in my mind. Her artistry blessed many lives, including my own, and for it, I will be ever thankful. During her 60th birthday year and as ever, I wish her eternal love, peace and blessings in the Lord in the holy kingdom, where I pray that her voice is rejoicing with choirs of angels.
---
Notes
I dedicate this two-part reflection to Tangla Annette Giles (1971-2004). Among my friends, I believe that Houston had her biggest and best fan in Tangla, who LOVED impersonating the videos for songs such as "How Will I Know" and "I Wanna Dance with Somebody."
The banner photo is of Houston performing "I Wanna Dance With Somebody," live in Saratoga Springs, NY, 1987.
The photograph of Prof. Richardson is by Elbert Powell, Sly's Professional Photography.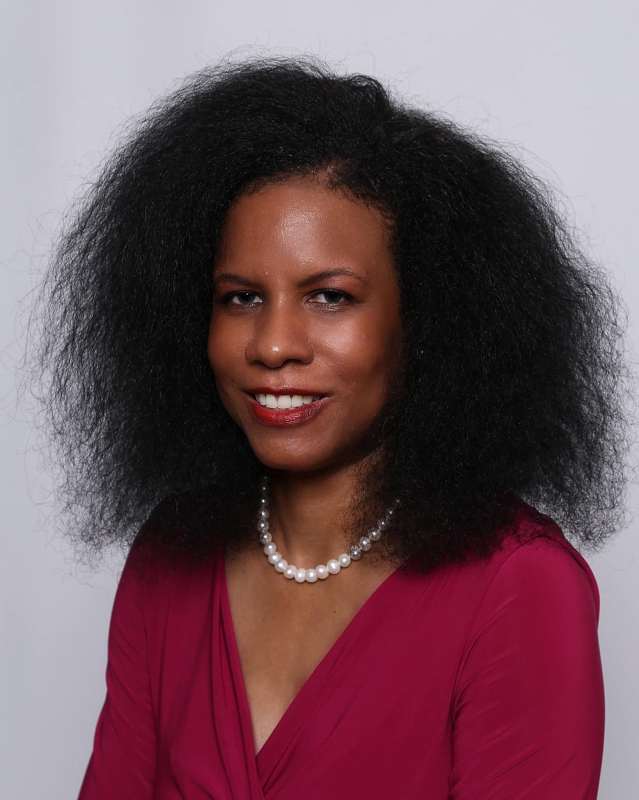 Guest Blogger: Riché Richardson
I am professor of African American literature in the Africana Studies and Research Center at Cornell University. My courses include "The Oprah Book Club and African American Literature" and "Beyoncé Nation." My Op-Eds have appeared in the New York Times, Public Books andHuffington Post, with interviews that have circulated widely, including on NBC's Today Show and Nightly News and Al Jazeera. My most recent book is entitled Emancipation's Daughters: Reimagining Black Femininity and the National Body (2021). I am also a visual artist. My mixed-media appliqué art quilts were exhibited in solo shows at the Rosa Parks Museum in Montgomery in 2008 and 2015, and in several national exhibitions, including "Quilts for Obama" curated by Roland Freeman at the Historical Society of Washington, D.C., in 2009. They are the subject of a chapter in Patricia A. Turner's Crafted Lives: Stories and Studies of African American Quilters (2009).