Founded in an era of worsening political conditions and the rise of Jim Crow, the National Association of Colored Women's Clubs (NACWC) held its first meeting in 1896. By 1914, it had grown to 50,000 members in over a thousand clubs nationwide. The group's motto, "Lifting as We Climb," coined by its first president, Mary Church Terrell, stressed the goal of racial uplift, not only for its own members, but for African Americans as a whole. The motto that reflected the NACWC's approach to its work became such a crucial part of its culture that its leaders' correspondence often closed with "Yours in lifting as we climb." Over the following decades NACWC clubwomen transformed their communities. They founded orphanages, senior citizens' homes, and settlements; supported schools and hospitals, provided scholarships, and lobbied for anti-lynching legislation.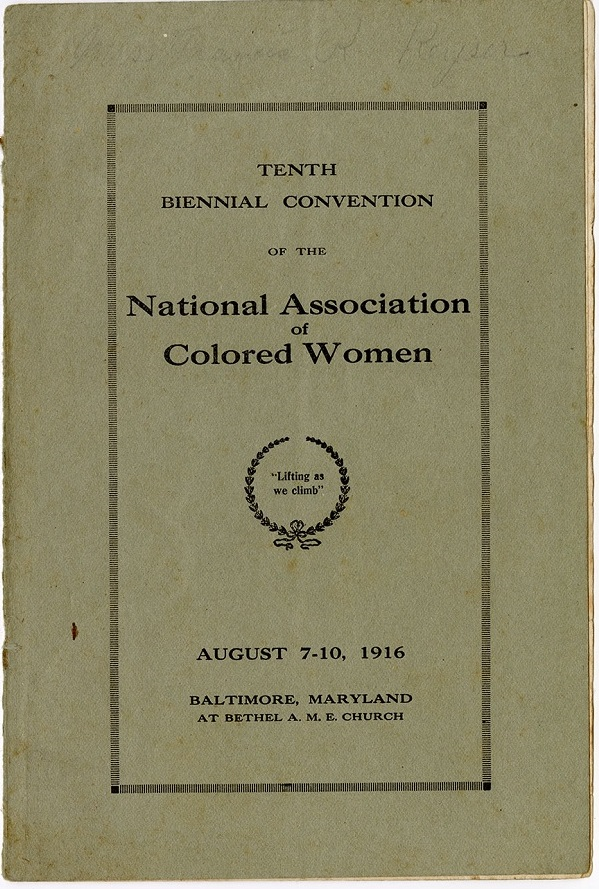 The NACWC also sang. Meetings across the country regularly included the Negro National Anthem, "Lift Every Voice and Sing," created in 1900 by James Weldon Johnson and J. Rosamond Johnson. Patriotic songs such as "America," the "Battle Hymn of the Republic," or Irving Berlin's "God Bless America," were heard as well. Religious songs were standard fare, from hymns like "Blest Be the Tie that Binds" to Thomas Dorsey's gospel classic, "Precious Lord." Before the 1960s, many important professional classical musicians helped provide the music performed at the NACWC's national conventions, including Harriet Gibbs Marshall, Maude Roberts George, Mary Cardwell Dawson, and Eva Jessye. However, communal singing remained at the core of the NACWC's music making.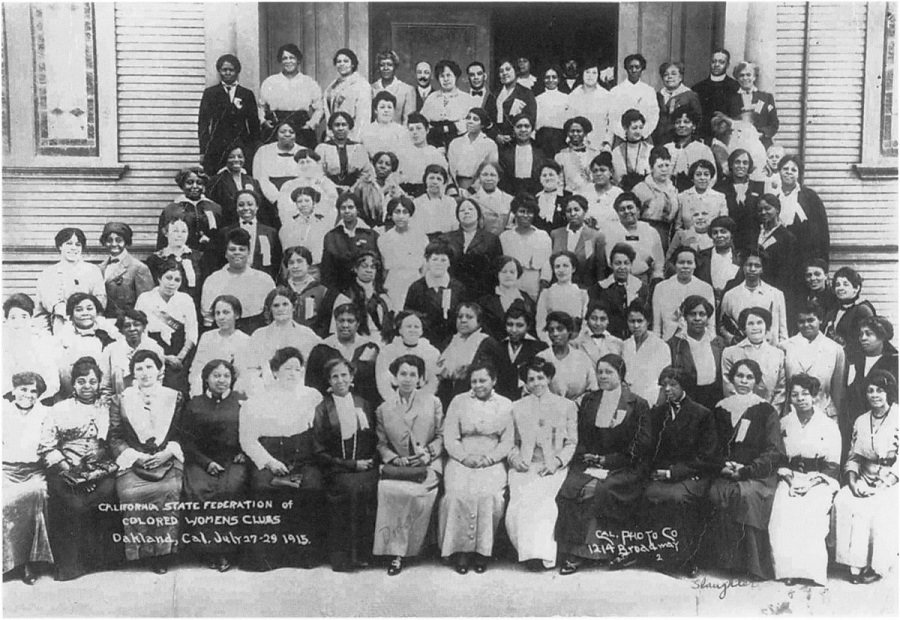 Members of the NACWC wrote original songs that reflected their beliefs and goals. Most consisted of new lyrics set to well-known tunes, a practical form of songwriting that was also used by suffragists and women peace activists. Three songs took their title from the motto, "Lifting as We Climb." Stella Murphy Neely of Birmingham, Alabama, penned a hymn asking God to bless the labors of the national organization and its members:
We thank the Master who has bless'd

Our lives with strength sublime;

And pray for paths of usefulness

In lifting as we climb.
Educator and Wilberforce University professor, Hallie Q. Brown, who served as NACWC president in the early 1920s, authored a song with a rousing chorus designed to invigorate its singers:
We are lifting, we are climbing,

We are lifting, we are climbing,

Don't you hear us shout and sing?

We are lifting, we are climbing,

Let us make the welkin ring.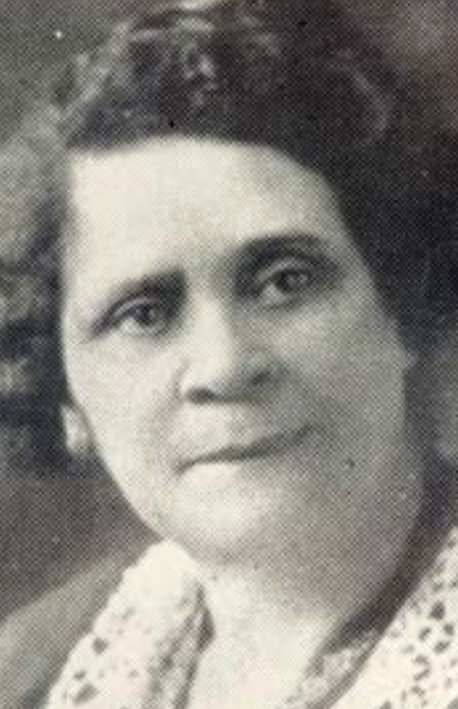 The only version of "Lifting as We Climb" with a published score was composed by Mollie Fines of Wichita, Kansas. Fines brought the sheet music of her song to the 1926 NACWC convention in Oakland, California, and sold copies to raise funds for the organization. After she taught the attendees to sing her rendition, they adopted it as the group's "national song." Fines' lyrics stress the NACWC's specific projects, including raising funds for the home of Frederick Douglass so that it might become a national landmark. Her refrain, "educate and graduate," refers to the group's creation of the Hallie Q. Brown scholarship fund to support African Americans' educations: "Lifting as we climb is the national command, / To educate and graduate all over the land."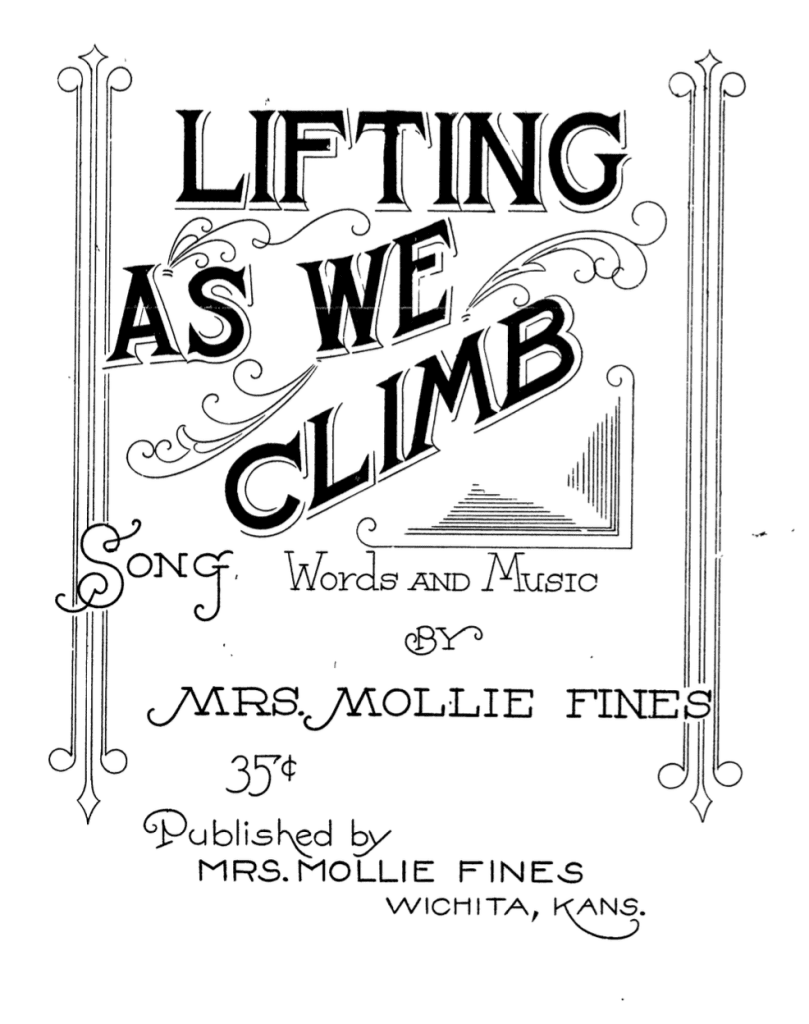 Many other songwriters incorporated "Lifting as we climb" into their lyrics. Katherine Tillman's song to the tune of "All Hail the Power of Jesus's Name" featured it in the third verse:
But "Lifting as we Climb," may we

E'en onward, upward go,

'Till fruits of earnest women's hands

To all the world may show.
Regional, state, and local branches' songs also referenced the motto. To the tune of "O Tannenbaum," singers of the Central region's rallying song asserted that they were "All loyal to our Central dear, / We'll lift and climb throughout the year." Susie Shorter combined the motto with the Ohio Federation's slogan, "Deeds not words," in a song that was one of several sung to the "Battle Hymn of the Republic":
We are a band of women, from the National we come,

We are marching into battle tho' we've neither fife nor drum,

The Ohio Federation, lifting others as we climb,

Our motto, "Deeds not Words."

Chorus: "Deeds not Words," shall be our motto,

"Deeds not Words," shall be our motto,

"Deeds not Words," shall be our motto,

We're lifting as we climb.
State songs could feature local imagery. The Ohio Federation sang "Arouse, arouse ye women of the grand old Buckeye state," while Washington women sang more generally, "Hail to the Women's Association!" "Lifting, Climbing," a song from a club in Junction City, Kansas, bragged that "Kansas grows the best of wheat, and Race Women, too."
Designed to celebrate their organization and to inspire its clubwomen to march forward, NACWC songs rarely mentioned the political, social, and economic difficulties that its members faced. The second verse of "Supplication," Sarah G. Jones's reworking of "America," which called for women to work together for racial justice, was not typical: "Let us united be / In this our aim to free / The Negro race." Neither was Susie Shorter's verse about Black women's clubs being denied admittance to the white General Federation of Women's Clubs in 1900:
We represent the women who were once denied a place

In the National Convention of the highly favored race,

Nothing daunted we have struggled and we've found ourselves a place.
NACWC songs more often called women to service to others within the context of Christian love and charity. Carrie Clifford's "Duty's Call" (to "Come Thou Almighty King") exemplified this approach:
Come, all ye women, come,

Help till the work is done

Help us to lift

We must sins' blight remove

By deeds of kindness prove

The wondrous power of love

God's greatest gift.
Christian music and lyrics served to sanctify the important work that clubwomen were doing. Yet the obstacles African Americans faced were clearly implied, even if they were not specifically named, as in Minnie Moore Waters' "Overcoming Song":
We're a band of Overcomers,

Climbing to the heights,

All the evils in our pathway

We intend to fight.

Chorus: Unity must mark our efforts

This is always might.

We'll overcome all foes to progress,

Asking God for light.
As members of the National Association of Colored Women's Clubs joined together to help African Americans overcome prejudice, poverty, sickness, lack of education, and other obstacles in their pathway, lifting their voices in song helped to inspire their work.
---
Song Sources
Artis, Mayme G., ed. Official Songbook of the Ohio Federation of Colored Women's Clubs. Columbus: Ohio Federation of Colored Women's Clubs, 1927. Many thanks to Michael Pekel for locating this for me.
Fines, Mrs. T. W. National and State Association of Colored Women's Clubs Songs. Wichita, KS, ca. 1930. Kenneth Spencer Research Library, University of Kansas, Lawrence.
Handbook, Washington State Association of Colored Women, 1958.
Johnson, Marjorie Collins, compiler. Ohio Federation of Colored Women's Clubs Songs. Cleveland: Dunbar Life Insurance Co., 1948.
For Further Reading
Davis, Elizabeth Lindsay. Lifting as They Climb. Washington, DC: National Association of Colored Women, 1933; reprint ed., New York: G. K. Hall, 1996.
Shaw, Stephanie J. "Black Club Women and the Creation of the National Association of Colored Women." Journal of Women's History 3/2 (1991): 11-25.
Hine, Darlene Clark. "'We Specialize in the Wholly Impossible': The Philanthropic Work of Black Women." In Lady Bountiful Revisited: Women, Philanthropy, and Power, 70-83. Ed. Kathleen D. McCarthy. New Brunswick: Rutgers University Press, 1990.
Wesley, Charles H. The History of the National Association of Colored Women's Clubs, Inc. Washington, DC: NACWC, 1984.
White, Deborah Gray. Too Heavy a Load: Black Women in Defense of Themselves, 1894–1994. New York: W.W. Norton, 1999.
Wilson, Jan Doolittle. "Disunity in Diversity: The Controversy Over the Admission of Black Women to the General Federation of Women's Clubs, 1900–1902." Journal of Women's History 3/2 (2011): 39-63.