In 1942 Anne Frank, thirteen years old, hides with her family in a secret annex in her father's business premises amidst the Nazi occupation of Amsterdam. Over a two-year period, Frank pens a series of diary entries that offers a stark description of her isolation, fear, and courage. Her personal reflections have subsequently influenced the way in which we understand and commemorate war, and the powerful role of the diary in times of enforced seclusion.
The title of Juliana Hall's 2016 song cycle A World Turned Upside Down is based on entries from the published collection of Frank's words: The Diary of a Young Girl. The seven songs seek to "bring to life, through music, the frightening emotions and sense of terror that Frank and her family felt, as they fought to survive persecution amid the most dangerous of circumstances." (Hall,1)
Hall, an American, is internationally renowned for her dedication to vocal composition. Over the past thirty years she has created a portfolio that speaks to this commitment: more than sixty song cycles and vocal chamber music, containing more than 300 songs and vocal settings, which have been performed by more than 500 singers and pianists. A World Turned Upside Down symbolises her desire to create musical works that position the poet 'center-stage,' with the text as primary feature and the sharing of stories – universally-shared human experience – as paramount:
The goal of art song is to illuminate a poet's words through music. Poets see truth and beauty in the most ordinary of things, and that is what I wish to express: those truths and that beauty. (Hall, 2)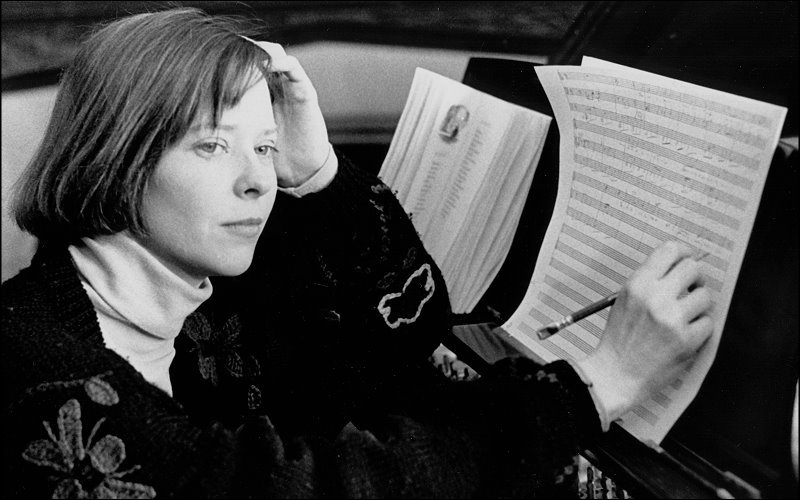 It was this very issue of universality that first drew Hall to Frank's stories. Emergent themes of diversity (nationality, religion, socio-political systems) and paradox (love / hate, creation / destruction, hope / despair) became integral to Hall's planning, and provided a fertile ground for her creative ingenuity: "texts containing universal truths bind people together, providing hope for a shared reality in which people don't see themselves as opponents as much as fellow humans." (Hall, 2)
The initial process of designing the cycle was relatively straight-forward, as Hall was already aware of Frank's diary content. Nevertheless, a challenge ensued: the translation of diary entry to song text:
Since music expands the delivery of words, you usually can't use all the words of a letter or diary. [I therefore sought] "special parts of the text that stand out, because they are rich in variety, character, imagery, the possession of musical qualities, and feel especially intriguing. (Hall, 3)
Hall invites the recipient to "feel the experiences that Anne endured, as well as hear her descriptions of them." (Hall, 4) Her use of "silences, crashes of chords in the piano, and many other 'different' types of sounds" become "part of the music as they 'paint' the scene." (Hall, 4) Her compositional approach is one of "'paint(ing)' the picture with sound", with the main goal to "project the text forward and 'above' the piano sound layer, so the story remains the primary interest." (Hall, 4)
The Songs
The songs, curated as a collective voice, represent Frank's every day reportage. It is a testament to Hall's creative eye that the diverse aspects of Frank's observations and experience present as a strategically-woven musical map; a condensed and 're-routed' account of her journey from carefree adolescence to augmented maturity.
The theme of each song, at first presented as staggering normalcy, belies a pervasive and sinister narrative just below the surface. The cycle begins with Birthday – the celebration of Frank's thirteenth birthday. Frank's innocence is conveyed through the musical design: the texture joyous and lighthearted, the pace blithe and youthful. It is here that we are introduced to 'Kitty' – Frank's personal diary. Anne "personifies her new diary, giving it a name and even declaring friendship for it. This sets up the most important relationship of the piece, that which she has with her diary." (Hall, 4)
The next three songs – Hiding, Food Cycles, and Footsteps – chronicle Frank's physical and emotional transition from a space of safety and security to one of enforced hiding, unexpected restriction, and chaos, "each a step further away from existing in the world, and a step closer to becoming erased from it." (Hall, 5) Hall explores a more somber scoring, crafting a texture that sonically tracks Frank, and her family's, descent. Shifting harmonies and strategic sonic layering create a sound "like quicksand, creating an atmosphere of terror like that which Anne and her family must have felt." (Hall, 4) Food Cycles provides an account of the period in which "the family only had access to one particular dish to eat." (Hall, 4) The music is "sharp and repetitive; a sound intended to resemble the feeling of constantly repeating the same meal without any relief. If you're hungry enough, you eat because you're hungry. The taste becomes secondary to survival." (Hall, 4) Footsteps then carries this musical notion forward:
There are silences…attempts to breathe as quietly as possible…shush-ings…thumps on the stairs (in the piano), all mirrored in the music…and finally a brief respite in the form of a sort of "song of Thanksgiving" for God's protection. (Hall, 5)
Chains symbolizes "the sound of heavy chains that [Frank] imagines to be holding them captive in one spot, living with a thousand obligations but no rights." (Hall, 5) Hall creates an onomatopoeic sound-world to depict Frank's feeling that "humanity is being stripped from her people", that "God has made the Jewish people the way they are and even sees the possibility that the world might learn from the experience they are enduring." (Hall, 5) Writer provides relief from the darkness of the previous four songs, by focusing on hope, faith, and Frank's "wish to 'be able to write something great,' and wonder[ing] aloud if that shall ever happen." (Hall, 5) Patch of Blue Sky concludes the cycle, serving as a point of emotional entry and departure:
Darkness reappears. Anne imagines her family group as a patch of blue sky, or a "light" surrounded by dark clouds closing in. As she sees the ring of sky between her and approaching danger become smaller and smaller, she has no power but to cry out for help. [……] Both musically and literally, Anne's cries are drowned out by the dissonance and the ever-increasing volume of the music, until finally all that remains of her voice is her diary. (Hall, 5-6)
A World Turned Upside Down offers both the art song practitioner and her audience an opportunity to experience raw, intimate reflection within the context of a performance. Hall transforms the private nature of Frank's diary into a searing disclosure: a lone voice, emerging from an imposed private chamber, declaring a story of human truth that remains disturbingly contemporary.
[Curator's note: See Nicole Panizza's previous post. The lead photo is the passport photo of Anne Frank, May 1942. Photo collection Anne Frank House, Amsterdam (PDC – CC).]
---
Bibliography
Frank, Anne. The Diary of a Young Girl. London. Penguin, 2007
Hall, Juliana. A World Turned Upside Down. New York: E. C. Schirmer, 2017. All rights reserved. Used with kind permission.
_________. Extracts from the composer's personal notes for The Beauty That Still Remains: Diaries in Song, On Site Opera, February 2021. Used with kind permission.
Juliana Hall's Official Website