After Sam Cooke was murdered in Los Angeles in December 1964, thousands of weeping mourners at the emotionally charged funeral service in Mount Sinai Baptist Church heard a succession of Gospel songs from several of Cooke's illustrious friends and colleagues. Lou Rawls sang "Just a Closer Walk with Thee," Ray Charles, "Angels Keep Watching Over Me," and Bobby "Blue" Bland, "Lord, I'm Coming Home." As powerful as these performances must have been, according to the account published the next day in the Los Angeles Sentinel, baritone Arthur Simpkins "climaxed the singing" with his rendition of "I've Done My Work" by Carrie Jacobs-Bond.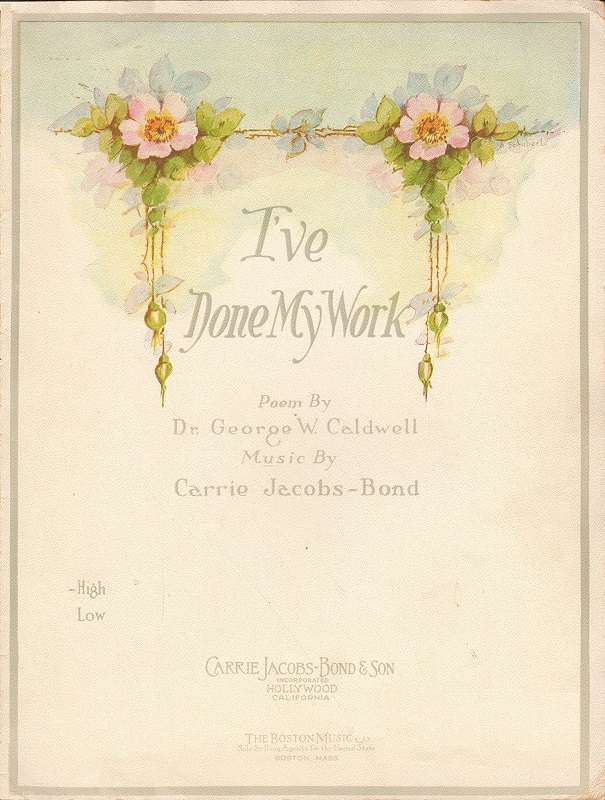 Although Paul Robeson issued five recordings between 1938 and 1961 of Jacobs-Bond's earliest hit, "Just a-Wearyin' for You" (1901), none of her other songs has been embraced by African-American singers, both professional and amateur, as long and as consistently as "I've Done My Work" (1920). From the Pace Jubilee Singers (1929) to the Chicago Gospel Keyboard Pioneers (2004), there have been seven recordings of the song, all of them by Black musicians.
Subsequent performers of "I've Done My Work" have included The Jubilaires (1951), a Jubilee gospel quartet similar in sound to the Mills Brothers; LeRoy Waldo and the Young Gospel Singers (1951), Mahalia Jackson (1962), Clara Ward (1967), and the "singing missionary," Kenneth Glover (mid-1970s). Ward included it on The Heart, the Faith, the Soul of Clara Ward (1967), her first album backed by a full orchestra.
Most recent is the 2004 recording by the Chicago Gospel Keyboard Pioneers, with Geraldine Gay on the piano. The Pioneers identify the composer only as "Traditional," indicating that Bond's song has survived a century as part of an oral tradition of Gospel music.
The Poem
The lyrics of the song were by George W. Caldwell, a surgeon in San Francisco, painter, and world traveler who was also a minor poet, one who published poetic descriptions of California. This poem speaks from the standpoint of someone nearing the later years of life, looking backward and taking stock, yet also looking forward with confidence that a path to salvation is clear. By 1920 Caldwell's words had layers of meaning for Mrs. Bond. Almost 60, thinking (wrongly) that her performing days were almost finished, she looked back on a career in which she had indeed sung her songs, year after year.
I've done my work, I've sung my song,

I've done some good, I've done some wrong

And I shall go where I belong;

The Lord has willed it so.

He knows my heart and every thought

He knows what pain and joy I've brought;

And by his love I shall be taught

The way to him I know.

He knows my soul so weak and blind

So full of fears of mortal mind

And he will lead, and I shall find

The way to him I know.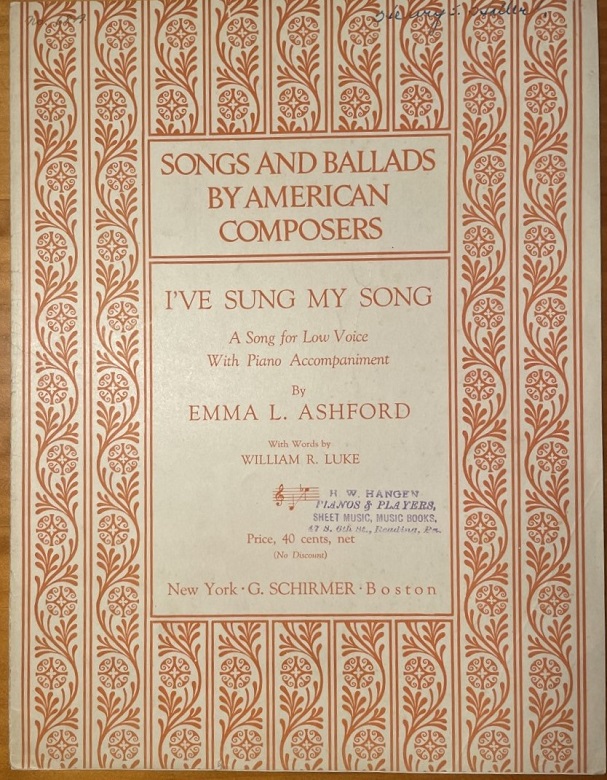 Caldwell's poem had a model. In 1918 Emma Louise Ashford had composed "I've Sung My Song" with a poem by William R. Luke. This poem assumes the voice of a man reviewing his life proudly, even defiantly. Ashford was a church composer in Nashville and one of the most prolific of Bond's contemporaries. Although the words she set are secular rather than sacred, there is much in common with Caldwell's poem, especially with the opening repetitions of "I've," the identical second phrase ("I've sung my song"), and the sense of moving forward without fear.
I've lived my day, I've sung my song,

I've fought and loved and striv'n;

The coming night is black and long;

I meet it calm, unshriv'n.

I've fought and wrought as best I might,

And struck no coward blow,

A man's a man, a fight's a fight;

This law is all I know.

And some sweet days of love I've had,

Dear days of calm and pure delight;

Then O defiant soul, be glad,

And O, my Love, my Love, goodnight!
The Musical Inspiration
If the poem had a model, Mrs. Bond's music arguably had one as well, one that may explain the popularity her song achieved in Black churches. While the rhythms are different, the melody shares the notes of its first and last phrases with the popular spiritual, "Nobody Knows de Trouble I've Seen," a song that also expresses the thoughts of someone reflecting on a life, in this case a life of sorrow. In the years before Bond wrote "I've Done My Work," the spiritual had two prominent arrangements published, both of which quickly generated recordings. Harry T. Burleigh arranged it in 1917, a version recorded that same year by Oscar Seagle (Columbia A2469). And in 1919, the year Clarence Cameron White founded the National Association of Negro Musicians, Fritz Kreisler recorded White's arrangement (Victrola 64824), an arrangement he often performed live. There are wonderful disks by a young Marian Anderson (1924) and Paul Robeson (1926). Here is White's arrangement sung by path-breaking opera singer and educator, Frances Cole-Talbert from her earliest recording, likely made in summer 1919 (Gibbs, 67).
The words of "I've Done My Work" resonate with spirituals and later gospel songs. The phrase "I've done some good, I've done some wrong," recalls "sometimes I'm up, sometimes I'm down" of "Nobody Knows," and the phrase "He knows my heart" is the title of a Gospel song attributed to "Harris" on Mahalia Jackson's 1946 recording.
The inclusion of this special song at Sam Cooke's funeral is part of a century-long tradition. A few examples: it was performed in 1931 at the funeral of Ida B. Wells-Barnett, civil rights activist and one of the founders of the NAACP, and again in 1943 at Fats Waller's funeral in Harlem's Abyssinian Baptist Church (the pall bearers on that occasion included James P. Johnson, Claude Hopkins, and Duke Ellington). Because Waller's sister had requested Mrs. Bond's song, it was sung by Isabel Powell, who was Mrs. Rev. Adam Clayton Powell, Jr. and Waller's sister-in-law. And in 1946, at Jack Johnson's funeral in Chicago, 5000 worshippers paid tribute to the first Black world heavyweight boxing champion; at the end of the service, mourners watched his coffin being carried slowly out of the church, while lyrical tenor Maurice Cooper intoned "I've Done My Work." The Chicago Defender identified it as "one of Jack's favorite songs" (22 June 1946).
The list of funeral performances is long. Two weeks before her death in 1990, Sister Thea Bowman gave an interview on her thoughts about dying in which she recites the entire song, noting that she had sung "I've Done My Work" at the funerals of her father and mother. That Jacobs-Bond's name is often not mentioned, that the song is thought of as "Traditional," would, I suspect, not trouble Carrie. On the contrary, she would have seen it as just another sign that her music was indeed, as many in her life described it, folk music.
---
Notes
Chester L. Washington, "Crescendo of Songs for Sam," Los Angeles Sentinel (24 Dec. 1964).
Leonard Feather, "Clara: From Church to Casino," Los Angeles Times Calendar (15 Oct. 1967), 1, 30.
Patricia Turner, "Our Divine Florence," The Black Perspective in Music, 12 (1984): 57-79.
Tim Brooks, Lost Sounds: Blacks and the Birth of the Recording Industry, 1890-1919 (Champaign-Urbana: University of Illinois, 2005).
Craig Martin Gibbs, Black Recording Artists, 1877-1926: An Annotated Discography (Jefferson, NC: McFarland, 2013)
Charles Farley, Soul of the Man: Bobby "Blue" Bland (University Press of Mississippi, 2020).